A long time coming: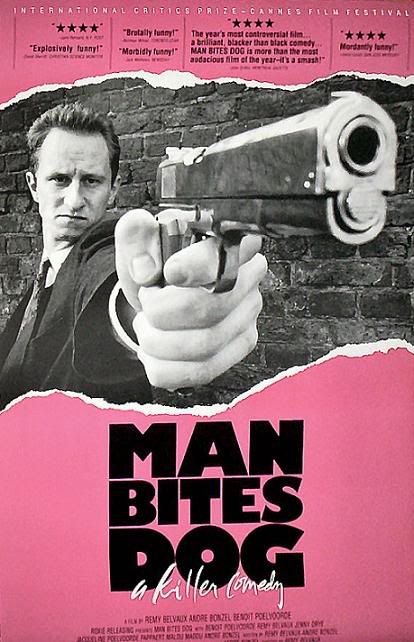 Man Bites Dog has been suggested to me a few times now and, with the offer of a free copy of it, to my doorstep in about a week, I couldn't say no. Knowing my incredible fondness and interest in all things morose (particularly serial killers and bloodlust (relax)), a lot of people who recommended the movie felt it was right on the money. Even though I hate the French, people were still adamant that I'd love this one. Now, usually when people claim I'll love something, I hate it by default but this, this my friends, is a different story.

This movie is pure genius and it ranks right next to (slightly above or below, I can't decide) American Psycho. The opening scene (after the train murder) is fan-fucking-tastic and it even relates to a hot topic we've all been discussing lately: Midgets.

Leaning over a corpse wrapped in a sheet, our main character Ben, enlightens us on the technicalities of sinking a dead body, "…You may not be aware that a corpse under water swells up with air, see? So it tends to float to the surface… There's a ballast ratio for corpses: 3 times body weight for an average adult, like this victim, but for children and midgets it's different. Kids are lighter so it's 4 times body weight. Midgets are heavier, so you double the weight. Midgets have denser bones… For old people multiply by five. Old bones are porous."

The movie is filmed as a fake documentary (mockumentary) about Ben, a serial killer who is more than happy to tell all about his profession. The movie is similar to American Psycho in the way that it takes the topic of murder and death rather lightly and the jokes, probably offensive, just roll off the tongue naturally and freely. It's also similar to This is Spinal Tap, not just because it's a mockumentary, but because of the curse of the soundman/drummer and the partly non-chalant reaction of the crew/band to the inevitable doom of their members.

The movie was basically made by three film school buddies on a shoe string budget and therefore, it doesn't have the look of a major Hollywood picture. The film's directors work around this by making the movie about guys with no cash, giving it an excuse to lack frills and gimmicks. It's filmed with black and white, in French with English subtitles… Don't let that stop you! Let it encourage you to broaden your horizons and all that shit.

More quotes, because Ben's philosophizing gets me off:




"Take the train station murder. The restroom murder. Who got the headlines? Who? The Dental Mechanic! And the toilet attendant didn't even get a single line! Little guys don't make waves. If you kill a whale, you get Greenpeace and Jacques Cousteau on your back! But wipe out sardines and you get a canning subsidy. I go for the small fry."

And this one is my absolute favourite (because I find racism utterly hilarious!). After shooting a night watchman:

"Those bastards! A black night watchman! What a dirty trick. So you can't see him! Who would ever sink so low? I bet he grew up under the baobabs and here he is on a work site. Makes me sick. They try to get away with murder… Let's go sink this Mubutu. A handsome fella' to boot. But I'm warning you, I won't touch him."
"Why not?"
"AIDS, Remy… AIDS. Green Monkeys. Grab him by the galoshes, but I won't touch him…"

Remy drags the guard away

"Here's our golden opportunity. To see if that legend about their size is true. Remy! Pull his pants down. We'll know in a jiffy! …Good lord. He's really well hung. You can wrap it up now, it's disgusting! The kid is barely 18 and already hung like a polar bear."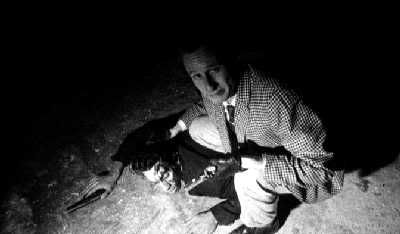 This movie is so ironic, it's beautiful. Now I have to thank Eponymous for sending it my way and not taking the opportunity to kill me with anthrax, as I'm sure it was tempting.

Ps. Obviously I have a dark sense of humour. If you enjoyed American Psycho, it's a safe bet you'll like this one.
Pps. I was disappointed with the ending. Probably because I developed a big crush on Ben.