Yeah, there's a period on the end of "Adaptation." Why? Because it's quirky.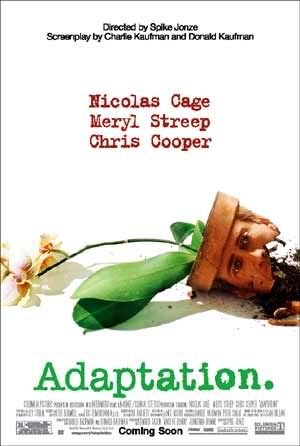 I've never in my life wanted to see LESS of Nicolas Cage yet I was faced with DOUBLE. Not even the thin, semi-good-looking-because-he-has-a-really-famous-family-and-a-lot-of-money Nicolas Cage, no, a fat and balding Cage x 2.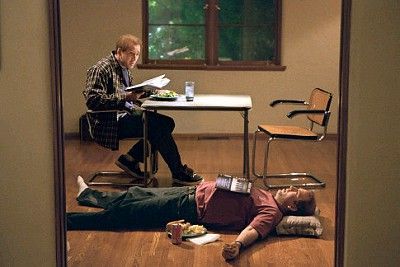 I haven't seen this movie in about 3 years and so it's not exactly fresh in my mind. Maybe if it wasn't such a piece of shit the first time around, I would have rented it again to make this review a little more movie-related and not just about how much I hate fat and nasty Nick. Speaking of how much I hate Nick Cage, let's talk about the director of my favourite movie of all time directing likely one of the most typical, predictable, and politically correct movies in the history of typical, predictable and politically correct movies. That's right, friends, Oliver Stone is going to direct a movie about September 11th (yawn) starring none other than the love of my life, Nicolas Cage as a…

Can you guess?

Yeah, I said Firefighter too.

Nope! Police officer. He'll star alongside a Mexican guy, for a little spice and PC. I bet he'll make "off colour" remarks about how addicted to coke he is every 15 minutes and Nick Cage will respond with that signature half a smile he does followed by his "serious-cool" face.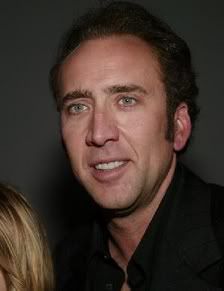 Oh yeah, Adaptation.

The twins will be referred to as B1 and B2 because Bananas In Pajamas is one of my absolute favourite shows.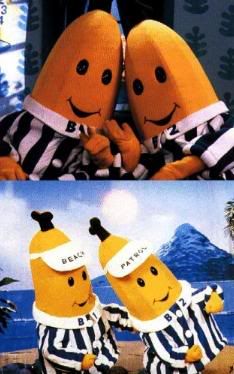 So, Nicolas Cage plays a set of twins who are both aspiring screen writers. B1, I think the thinner of the two, is having better luck since he's writing mindless action and romantic comedies, but B2 strives for the intellectual mumbo jumbo and fails miserably. I'm pretty sure this is a direct representation of Nick Cage's attempts at gathering some sort of cult audience with films like 8mm. So then the movie continues and I don't really remember what happens.

Fast forward to Meryl Streep smoking fertilizer and fucking this really nasty guy with no teeth. They both have a strange obsession with orchids… the flower. No really, this is what it's about I think Meryl (that's a real pretty name) wrote a book about orchids and No-Teeth is an orchid thief. Fuck, it didn't make sense to me either.

Now, since everything up to this point is superb writing, let's top it off with a fine ending and if you don't like spoilers, read this and bypass the movie. So... No-Teeth get's eaten by a crocodile.

No, seriously, he does. End scene.

A lot of people have told me that I "just don't get it, man" and that maybe I'll "understand when I'm older" or that if I had ever suffered from writer's block, I'd totally feel Nicolas Cage's pain. Or maybe it's just a shitty movie about fat twins who like flowers and crocodiles.

Yep. I think that's it.

Ps. Movies I've seen this week that are better than Adaptation. - Maria Full of Grace, Apocolypse Now, Hero, A Very Long Engagement, 10 minutes of Hide and Seek, 30 minutes of Coffee and Cigarettes, A Bug's Life.
Pps. Feel free to give movie suggestions for reviewing, I'm feeling uninspired.