Anyone who knows anything about me knows about my extreme and undying hatred towards Ben Stiller. Yes, I've seen "Zoolander" and yes, I still hate him. Not only do I hate his looks, his personality, his writing, his directing, his producing, his wife, his clothes, his Jewishness but I also hate his friends.

Owen Wilson, Vince Vaughn, Will Ferrell, Christine Taylor, Rip Torn, Jack Black, and Vince fucking Vaughn. I know, I said him twice.

Ok, saying I hate Jack Black is a bit too far but I stand by my word on the others. I can't stand them and the fact that they are in every single Ben Stiller "Comedy" ever shat out. I was watching Raising Arizona the other night and thinking to myself, "Wow, since the beginning, these guys (The Coen Brothers) have always stuck with the same core cast for the majority of their movies: Frances McDormand, John Goodman, John Turturro, Holly Hunter and so on. I love the Coen brothers and their films. So does this make me a hypocrite for hating Ben Stiller for the same reasons I love the Coens? No, because the Coen brothers don't crap out one shitty film after another, month by month, with the same general plot line.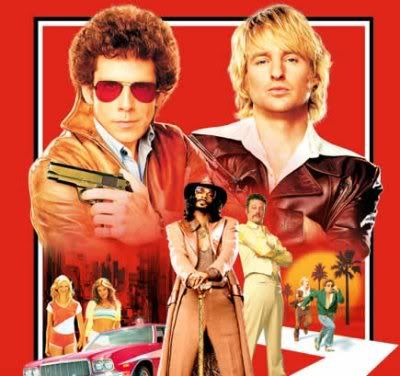 I don't understand why Ben Stiller always writes himself, or is written as the "Good Looking Guy". I know it was a joke in Zoolander, but all the others? The guy is one of the worst looking men in Hollywood. I'd rather sleep with Steven Anthony Lawrence than be in the same room with Ben (Call me, Steve!). In Dodgeball (which I was forced to see) he was the super-fit and super handsome gym owner that had to peel the ladies off. In Zoolander he finds it tough to be "this good looking." Why is no one pointing this out? Why is no one making note of the oddly shaped head that this man possesses? I think it's time.




Something About Mary was the first big screen success that Ben had. No, I'm not counting "The Cable Guy" as a big screen success. Since I'm not a fan of SNL and I never saw "The Ben Stiller Show" (and I'm counting my lucky stars), I wasn't really exposed to Big Ben until 1998 at the young and impressionable age of 16. Sure, the cum jokes, the dick caught in the zipper, the retarded kids, and the old woman's leather breasts all gave me a good chuckle but I'm pretty sure it ended after Ben started releasing 25 "productions" in the span of 5 years. God man, take a break, for my sake.

And Will Ferrell really pisses me off too. I've gotta throw that in there, because I know he's well loved. Wait… Maybe if SNL would stop discarding their cast into Hollywood, I wouldn't have to be such a miserable bitch.

Too late.

Ps. I'm also writing a guest post for another blog, but I've been sworn to secrecy because he hates everyone who comments here and doesn't want them on his blog. If you can find my guest post (should be up by Sunday), you get a cookie (or a photo of one I found on google images.)
Pps. Today is my half-birthday.
Ppps. Movies I saw this week: The Labyrinth, Raising Arizona and Charlie and the Chocolate Factory (again).
Pppps. Fiona Apple is FREE! Thank you to anyone who paid attention to the issue or visited the Free Fiona site. Success has been had.