Peter Jackson needs a fuckin' hair cut.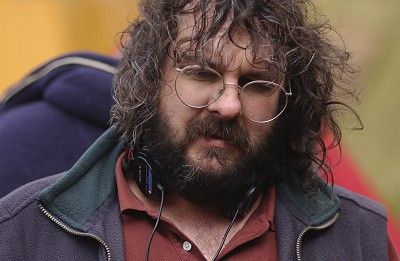 God. I was so tempted to leave that as the entire review. My big comeback review for King Kong, "Peter Jackson needs a fuckin' hair cut."

My feelings on Big Pete are just bubbling over though, and I can't simply leave my personal attack on him as "Peter Jackson needs a fuckin' hair cut." I mean, that leaves so many things unsaid. Like, "Peter Jackson needs to work out," and "Peter Jackson is ugly." Of course, these things can all go without saying because they're just common knowledge. Ask, "Do you know who Peter Jackson is?" and you don't hear things like "That incredibly talented film maker who nearly made me cream with 9 consecutive hours of The Lord of the Rings?" No. You hear, "Oh, that disgusting short and fat guy with huge glasses that needs to buy a comb and some Pert Plus with his millions of dollars he earned from raping the wallets of geeks and nerds everywhere." No, seriously. Go ask someone. I swear that's what they'll say.

So I'm sure the geeks and nerds are saying, "But what does it matter if he's a fat and ugly bastard? His movies are still cinematic masterpieces that revolutionized the world of film." It does matter, and do you know why? Not because the Lord of the Rings Trilogy is awful (it is) or because King Kong was way too fucking long (it really was), but because I am a shallow bitch. I know you won't deny it.

For all (what felt like) 6 hours of this epic film, I couldn't help but feel that this may be an autobiographical piece about the director. Now, I know, the story of King Kong is as old as giant monkeys, but I could really feel a lot of Peter Jackson's insecurity and pain (because of people like me) in Kong's character. Not only is the emotional turmoil that Kong goes through strikingly similar to the pain that Jackson must go through on a day to day basis just living in his own skin, but they are both ugly beasts.



Ok and maybe I'm being unreasonable by asking this… I mean, it is a movie about a giant ape but can someone please explain the whole dinosaur thing? I don't really get it and I don't feel that it was adequately explained in the film. Maybe they explained the Jurassic Park theme while I was taking my second nap between my third bathroom break, who knows. If you've got the answer, please enlighten the movie going world.

Can Pete just make a normal movie? Maybe something that has some substance to it rather than a whole lot of pretty good visuals (not including Elijah Wood). We know you're good with computers, fat man, why don't you come up with your own fuckin' storyline now? Come on, this guy is a master at retelling shit we've all heard before (all be it, it does take him a long time do it), but Big Pete, I know you have it in you to make your own movie. Maybe a geek to chic story?




Ps. Who are they kidding? Jack Black??
Pps. Movies I've seen since my hiatus: Hostel, Boogie Nights, Grizzly Man, Proof, Pride & Prejudice, Harriett The Spy, Chicken Little, The Family Stone, Brokeback Mountain, Memoirs of a Geisha, Aeon Flux, Capote (SEE THIS MOVIE), Good Night and Good Luck, Jarhead, North Country, Moonlight Mile, The Good Girl, Prime, Walk The Line, Prozac Nation, Criminal, Microcosmos, Take The Money and Run, Manhattan, Melinda and Melinda, Four Brothers, War of the Worlds, The Bad News Bears, Domino… and many more I'll think of later.