Let's move on, folks.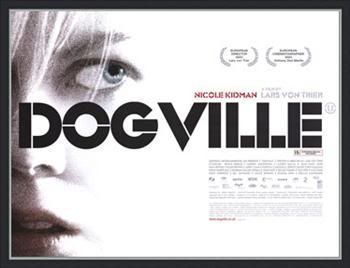 Maybe I should actually finish watching this movie before I review it. Or maybe they should actually have a SET to keep me entertained for an hour and fourty minutes.

Don't get wrong, I'm all for artsy fartsy films, and I'm known for having quite a liking for them but this is a bit too far.

Nicole Kidman stars alongside Paul Bettany (Wimbledon, A Knight's Tale) in the story of a woman who escapes gunshots and ends up in an incredibly tiny dead-end town surprisingly called
Dogville
. She meets this guy named Tom Edison and he tells her to stay in the town, the people don't want her there because she's a criminal, he convinces them that she's safe and then I turned it off.

It doesn't sound half bad, right?

Yes, it does, but not only does it SOUND awful, it IS awful. The movie is filmed like a play. It's on a sound stage of sorts with the houses, trees, mines, dogs and so on DRAWN onto the stage.

Am I joking?

No. I'm not joking.

It's like a blueprint. There are no doors or walls in the film, the actors simply knock at thin air. Wait a second, this movie is starting to sound familiar. Oh yeah, I did this in grade 8 drama class at my low budget school that offered 3 electives.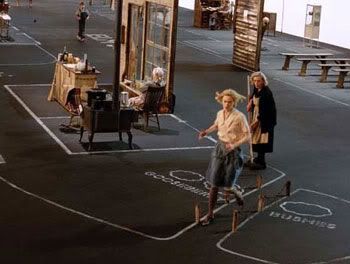 Lars Von Trier
blew me away with "
Dancer in the Dark
" (which you should see), but fell shorter than a midget with this one.

Oh, and I hate
Nicole Kidman
.