I don't assume many of you have seen this one but hear goes.




A lucid dream is defined as "a dream state in which one is conscious enough to recognize that one is in the dream state." Generally, it means that one not only realizes they are dreaming, but can will the dream to take any action they please. For example, in a lucid dream, one can fly, have sex with whomever they choose, or have whatever Jedi powers they'd like.

What a crock of shit.

This particular movie, Waking Life, deals with the subject of lucid dreaming but, as you can't take "Kicking and Screaming" seriously, you ought not to take this movie's view on "Lucidity" too seriously.

Directed by Richard Linklater, who also did School of Rock and Dazed and Confused, it's hard to believe that this director is capable of dealing with such serious and thought-provoking subject matter as "Dream is Destiny" or "Death and Reality". Although he may not have the skills, he certainly tries to take it on in this film.

The movie is quite well done, to be honest. It's filmed and then animated over, giving it a certainly unique look and making it a rather interesting experience to watch. Basically a collection of different interviews with different people discussing philosophy and psychology, the movie's animation gets looser and tighter (I know what you're thinking), based on the extremity or believability of the various interviewees. Often it's difficult to make out where the face is on a particular character, where it's occasionally possible to name the exact actor in other scenes.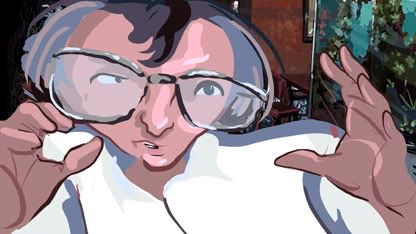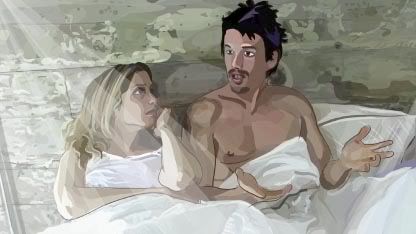 If this movie is a tribute to the great life philosophers and philosophies of the past however many years, then it's a great movie. If this movie is a collection of various philosophies that Richard Linklater claims as his own ideas, then this movie is a piece of shit. I view this film as a limited encyclopedia. It's the views of Plato, Nietzsche, Dostoevsky, Aristotle, and DH Lawrence to name a few, crammed together in an hour and a bit of rotoscoped originality.

It could likely be considered pseudo-intellectual (Eg. Elephant) but it's not half bad, if you don't take it for face value.

"The idea is to remain in a state of constant departure while always arriving."

Ps. The one month mark is coming up, I'm taking requests for the June 27th posting. What would you like reviewed?