Are you JOKING?

This blog has been up less than a week and there's already a hit out for my life?

Two negative comments were made towards my blog in the past few days. I feel, rather than replying to each individually, I should make a post out of it. I'm doing this so that any future complaints will be answered in a respectful and calm fashion.


The first
, about Star Wars, was unintelligible so instead of including the original, I included my rewritten version:
"Well, clearly this joker has no life, no sense of irony and no imagination. You're the kind of person that likes to critique everything and write it off as lame. Movies aren't always supposed to be life changing. In fact, this series was so far ahead of its time, that if you don't appreciate it, then you are the typical geek that we talk about. You might as well go watch a Michael Moore movie, or choose a Ford Focus instead of a Shelby because it is more economical. Come join the living and get over your depression." – Anonymous

And
the second
, about Kicking and Screaming:
"Does anyone in here know anything about the term, "target demographics?" Well obviously not. This "movie" was not intended for an intellectually mature audience, and apparently, neither is this review. It's a "family movie" you morons. It's intended to yield profits off the original fiscal investment. Get over it. Not all movies are intended to be legitimate forms of artistic and/or social commentary. This is NOT, I repeat, NOT, a movie to be taken seriously. If you don't understand that, you may want to keep your elementary opinions to yourself. Just so you know, there are hundreds of terrible movies made every year with the intentions of making money. What's next, a review on the new Britney Spears album? Let me guess, "it sucks." What a revelation. A wise man once said, "Don't speak your opinions on subjects you know nothing about." Heed his words." – Stating The Obvious

Firstly, everyone needs to understand something: The new
Britney Spears
album does not suck but I don't believe it's her best to date. I personally enjoyed "Britney" much better than "In the Zone" and it's a shame she released a Greatest Hits so early in the game. "In The Zone" had too many gimmicky voice alterations for my liking. "Britney" seemed raw, the true Britney Spears exposed for the world to gander at.


Secondly, Michael Moore is a fat ass.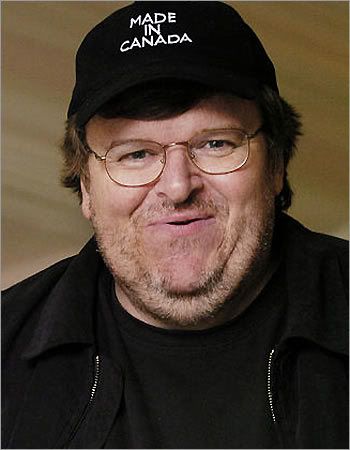 Thirdly, I am not an intellectually mature audience.

Fourthly, and most importantly, this blog is hardly a social commentary. This blog is where I can grab freedom of speech by the balls and slam it against the wall. Are my opinions wrong? They're opinions, "Stating the Obvious", they can't be wrong.

Lastly, Kicking and Screaming was a pile of shit and if that's what is being presented to the target audience, well then I apologize to the children on behalf of Lars Ulrich or whatever the hell the director's name is.

If you don't like my clearly biased opinion of movies, music, food, people, inanimate objects or anything else I can muster up, then don't read them. We're given the freedom of speech and the freedom of choice. If you choose not to listen to what I say, I won't lose sleep.

For those of you who love me and my stuck up "intellectually mature" opinions, stick around.

Oh, and this is NOT, I repeat NOT, a blog to be taken seriously. If you don't understand that, you may want to keep your elementary opinions to yourself.

Ps. Don't comment saying that Lars Ulrich did not direct "Kicking and Screaming". I know he didn't. I wrote a post on it less than a week ago.