So this is the one month post. This particular blog has been around for, you guessed it, one full month today. A month ago, I was chatting with Dickolas Wang and predicting the lasting-time that the blog would have. He gave it 3 weeks, I gave it 2. Looks like we're both losers.

Anyway. I took requests for the big one month-er and they all either sucked shit or were nowhere to be found. I was planning on doing Super Troopers (since everyone seems to love that shitfest), but it was already rented out (likely to one of you) and so I was left to rent GOOD movies, which are no fun to read about. Alas, my genius led me towards the inevitable topic of "Blogging".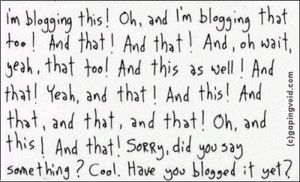 I've never been a blog supporter. I generally refuse to read people's blogs, mainly because I don't give a shit about their day but also because it's mundane and over done. Being nagged and nagged continuously by various different folks, I decided to finally give in and start up my own. Facing ridicule and mocked by many, I tried to redeem my turn to the dark side (Star Wars is gay), by actually writing something somewhat entertaining to read.

Other than the constant jabs at my looks, opinions, style, comments, commentary, writing, etc etc etc, the blogging experience hasn't been too bad. I suffered through a 45-comment frenzy from people who wanted to kill me vs. people who wanted to fuck me and somehow made it out alive.




My general opinion on blogging and bloggers is that I hate it/them. Unless they've got a lot of style, reading about teenage angst, your uninformed political drivel, or the various reasons why I should finally take that leap towards Christianity, just doesn't appeal to me.

There are a select few blogs I enjoy reading, and those people are extremely lucky. I said hell would freeze over before I became a blogger, but I've changed it to, Hell will freeze over before I talk about how my day went on my blog. You can all thank (or send the hate mail to) my pal, who likely wants to remain nameless because he's extremely paranoid, Matt, for making me take the final leap and actually join Blogger to rant about why everything I don't like is so shitty.

Ps. All the fine drawings are done by Hugh Macleod from Gaping Void. He's got a great blog and his drawings are absolutely amazing.